Ballast Water Management System
PACT MARINE is an Offshore & Marine Engineering Multinational Corporation, focusing on Offshore & Marine Water Treatment, providing Advanced Technical Consulting, Product and Engineering Services, with the majority of clients being from Fortune 500. Business Areas include: Ballast Water Management, Seawater Desalination, Maritime Water Treatment, Platform/FPSO Water Treatment associated products, service including engineering design, procurement, equipment manufacturing, installation and commissioning. Headquartered in Shanghai, with an international and professional team, providing clients with personalized service.
PACT Marine TM Ballast Water Management System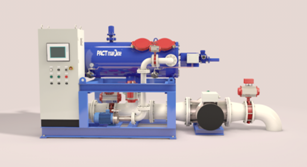 Leveraging on PACT's vast water treatment, automation and mechanical expertise and experience, PACT MARINE™ BWMS was developed in-house, utilizing a 40μm self-cleaning filter combined with medium pressure ultraviolet (MPUV) disinfection technology, with simple structure, superior performance, with design allowance to meet more stringent future discharge standards, offering a complete range (200-4000m3/hr) of ballast water management solutions to clients.
System Operating Principles
Ballasting
During ship ballasting, ballast water enters the BWMS from the ballast pump, through the filter, then the MPUV reactor for treatment, and then into the ballast tank. Passing through the filter, large inorganic particles, most of the zooplankton and phytoplankton would be removed, ensuring the effectiveness of MPUV disinfection downstream. 200-280nm wavelength UV irradiation of the MPUV reactor achieves disinfection of the residual plankton, bacteria and viruses in the ballast water by means of cellular damage.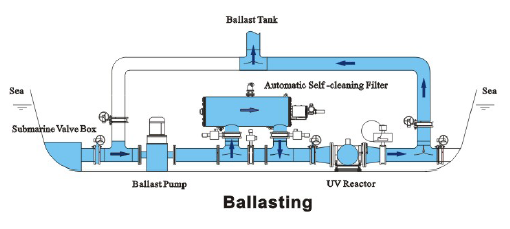 De-ballasting
de-ballasting, the ballast water is directly pumped through the ballast pump into the MPUV reactor, bypassing the filter, for secondary disinfection treatment before discharge

Features
Simple Structure, easy to install and operate; Depending on spatial allowance, can be installed in containers, modules, loose in a vertical or horizontal format.
Stable & Reliable Performance
System utilizes Israeli Filtration Technology, with components from reputable manufacturers well-known for their stability & reliability; Global service network provides a reliable & comprehensive support worldwide
Design allowance to meet more stringent discharge requirements
Economy Mode –By adjusting MPUV intensity, system responds to incoming water quality to achieve discharge compliance with minimum energy OPEX;
Performance Mode – system able to increase UV intensity at various settings to comply with more stringent discharge requirements due to considerable design allowance.
Suitable for all vessel types (Bulkers, Tankers, Boxships, Passenger Ships and other special purpose vessels).
Specifications & Models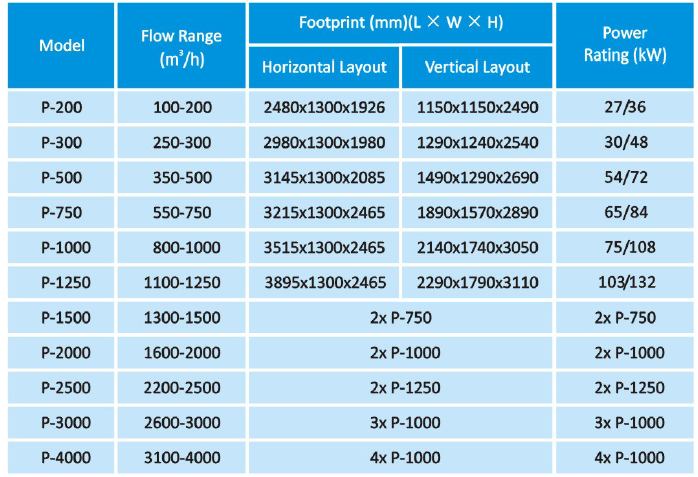 Global Service Support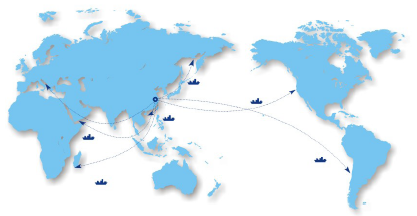 Product Video